Brigggggz
biography
22 years old. Music Education alum via the University of Maine. Part time 4th and 5th grade instrumental music teacher.
5

April 13th, 2013 + 6:04 PM
·

Brigggggz
Recorded this song in a couple of hours this afternoon. This is the first time I've recorded piano, too. It's only a cheap old keyboard; doesn't even have pressure sensitive keys. I hope you enjoy.
8

January 19th, 2010 + 2:01 PM
·

Brigggggz
So this song is actually called "I've Moved On" but every time I tried uploading it with that title, I got an error saying "you already have a song with that title" which is totally false, but whatever...

Been a while since I've posted anything, but if you've heard any of my other stuff, you'll realize this is a bit different than my usual style. There are no wailing guitars or hard heavy power chords and fingertaps, haha. I recorded this a few months ago, and this is a shortened version, with sections cut out that would normally be where the vocals would go. I made all the percussion, loops, fills, background vocals using Fruity Loops.

Have a listen, and let me know if you like the new style. The solo starts around the 1:00 mark.
4

March 14th, 2009 + 10:03 PM
·

Brigggggz
Just another little rock song I threw together in a couple of hours, a la "Smack The Evil Horse" if you've listened to my other stuff :p

Instead of using drum loops this time, I used Fruity Loops to create all my own drum beats and fills.


Lemme know what you think of this fun little experimental rock song!
5

August 1st, 2008 + 9:08 PM
·

Brigggggz
Last summer I updated my old song "I Don't Need" and made this electric version of it. I've still not made the vocal track, and I probably will never actually get around to it. If you want the lyrics, just listen to the old version. Hope you enjoy.

Sorry about the long hiatus, as well.

PS... It wouldn't let me upload the song under the title "I Don't Need v2" so I renamed it "Do Not Need"
13

June 18th, 2007 + 8:06 PM
·

Brigggggz
This song is based on a riff I made up a month or two ago... it's just fun to play around with. I decided I'd record it yesterday, and this is what the "finished" product is today. It's more of a jam song, than anything, but I had fun making it... so here it is.
Alias:
Brigggggz
Status: Offline
Threads:
7
Posts:
21
Songs:
7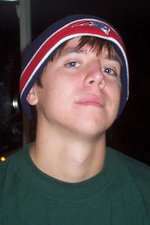 Joined: July 18th, 2005
Last login: October 12th, 2013
My Messengers
| | |
| --- | --- |
| AIM: | n/a |
| ICQ: | n/a |
| Skype: | n/a |